5 Signs It's Time to Update Your Outdated Resume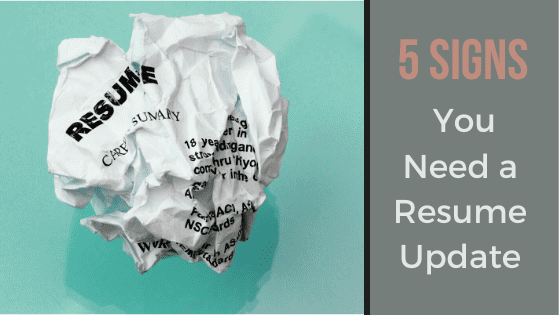 So you're ready to look for a new job… but you're not sure if your resume is. Check out these 5 signs you need to update an outdated resume.
By: Ashley Leal | Resume Writer for Let's Eat, Grandma
So you pulled out your resume, took a look, and you aren't sure if it's up to par with the resume trends of today. Does it need just a little tidying up, or a major overhaul?
Here is a quick guide on five signs that it is time to update your outdated resume.
1) It is over two pages
If your resume is over 2 pages, then it's time to take the scissors out and condense it down to one, or maybe two, pages. The best way to cut your resume down is to focus on your most recent and relevant experience. Remember: your resume is a marketing tool, so you want to make sure that you are not listing excess information to just fill the space. Instead, focus on your top achievements and target key metrics that are going to help you stand out, and cut out anything that doesn't support those. 
Want more job search tips? Sign up for our newsletter!
Additionally, here's a good rule of thumb to follow: If you have over 5-7 years of relevant and strong experience then it is okay to go onto two pages, but only if you have enough truly relevant information to mostly fill the 2nd page. If the resume just spills onto less than half of the second page, that means it's just too long and should be cut to one page.
2) There are too many details on old jobs
If the jobs you had more than 10 years ago have four or more bullets or lengthy job scope paragraphs, it is time to take a look and decide where you can cut some information out. And yes, you can stand to cut that information out.
Once again, you want your resume to be relevant and recent, so anything you did 10+ years ago begins to become outdated. It is generally okay to mention older roles you had and highlight some of your top accomplishments if they were especially relevant to your career, but you want to stay within one to three bullet points. 
You can also simply list the company name, your position, and the dates you worked there to still show you have the experience without making it the focal point of your resume. If you want to highlight the name of an impressive company or position title you held long ago, this is the way to go (you can even leave the dates out if they're more than 15 years old to prevent ageism).
Here are two potential ways to format those older jobs:
3) You have an Objective Statement 
This should be an automatic red flag that it's time to update your outdated resume. An objective statement is simply an outdated section that was once used to plainly say who you are and what you are "seeking" to gain from a job. Here is our official company policy on including an objective statement:
Burn this, burn this with fire. 
Objective statements are redundant and provide no value. Employers don't care what you are looking for on a resume; they know that you're interested because you applied. They care what you can do for them!
Instead, start your resume with a Summary of Qualifications section. The purpose of a summary is to describe your top skills/strengths and how you have been able to apply them to create results. A good one will capture the recruiter's attention right at the beginning of the resume and immediately show why you're awesome.
The Summary of Qualifications is one of the most important sections on your resume; for some more tips on how to write one, check out this blog.
4) Your bullet points are clunky
If you notice that a majority of your bullet points take up two, three, or maybe even four lines, it is time to update those professional experiences. A resume is not a novel, and bullet points are not intended to be paragraphs. By having too much information in a bullet point, your accomplishments start to become buried in the words and get overlooked. You want to cut your bullet points to one line wherever possible, and two lines if absolutely necessary.
5) Your design is not ATS-compliant
An Applicant Tracking System, or ATS, is a software program that essentially scans your resume for keywords and identifies how compatible your experience is with the job posting. The majority of mid- to large-sized companies use them to filter candidates as they save hiring staff loads of time.
It is imperative that your resume is ATS-compliant so that the text can be properly scanned by the software. If not, your resume's keywords won't be scanned and you won't appear in recruiters' search results. Or worse yet, your resume won't be readable to them at all.
Some warning signs that your resume may not be compliant are: 
Visuals such as tables, graphs, logos, or a headshot 
Multiple columns 
Multiple or uncommon fonts
Unconventional bullet points
(Click here for the full list in a handy infographic!)
By using these formats and designs, you risk having your content overlooked and your resume automatically thrown out. When in doubt, simplicity is key.
There you have it: five signs that it may be time to update your outdated resume. If you find that you have one, two, or all five of these in your resume, get ready to brush the dust off and fix it up.
Want more job search tips sent straight to your inbox? Sign up for our newsletter here: